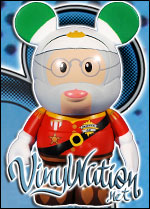 The Colonel is the chaser for the Park 4 series of figures. This 3" figure is found in only one out of twenty-four boxes, making it more valuable than regular figures.
Description
Edit
The Colonel is based on a character at The Adventurer's Club, a former night club at Walt Disney World's Pleasure Island. The club was based on a 1937 Open House for people who loved adventure, with multiple cast members playing characters in semi-improvisational shows throughout the evening. Colonel Critchlow Suchbench was an audio-animatronic who could communicate with guests in the main salon, and taught all new members the club salute, and motto, while regaling them with other strange and often inappropriate tales. This figure is dressed just as the Colonel from the club is, with the club motto 'Kungaloosh!' written across the back of his head.
Availability and Price
Edit
The Colonel is a chaser, making him more valuable than other figures from the set. He is also from the Park 4 Series, which has been retired with no plans to add new figures at this time. On various auction sites, the price of The Colonel figure ranges from $35-$50.
This figure was designed by Disney Artist Adrianne Draude