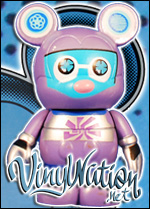 SMRT-1 is a 3" figure from the Park 1 Series of Vinylmation.
Description
Edit
This figure is based on the robot SMRT-1 from the Communicore exhibit at EPCOT, which spoke to visitors and played trivia games. The figure is mostly purple with a blue face and the robot's gears showing on the stomach.
Availability and Price
Edit
This figure was part of Park 1 Series which was retired. There are no plans to produce new figures for this series. According to various auction sites, the average price of this figure is between $65-$90.
This figure was designed by Disney Artist Celeste Cronrath.