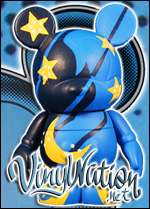 Description
Edit
Magical Stars is based on the Believe... There's Magic in the Stars fireworks show previously shown at Disneyland Resort for the park's 45th Anniversary. This figure has blue and dark blue backgrounds and the rest of the figure has stars of various shapes and sizes. On the feet of this figure is a bright yellow swirl.
The average price for this figure on various auction sites is between $75-90.
Series: Park 1Edit
Type: 3" solid vinylEdit
Artist: Rachael SurEdit
Card: YesEdit
Availability: Retired (Feb 2011)Edit
Ad blocker interference detected!
Wikia is a free-to-use site that makes money from advertising. We have a modified experience for viewers using ad blockers

Wikia is not accessible if you've made further modifications. Remove the custom ad blocker rule(s) and the page will load as expected.