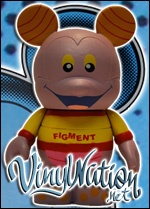 Description
Edit
Figmouse is a tribute to Figment, the mascot of the Imagination! pavilion at Epcot and is a character in the Journey into Imagination attraction. Figment is a purple dragon that represents a figment of human imagination. While there have been many reincarnations of Figment over the years, this one is designed with his classic yellow t-shirt. The back of the vinyl features painted wings and painted dragon scales. On various auction sites, the price for this vinyl can range from $85-$100.
Series: Park 1Edit
Type: 3" solid vinylEdit
Artist: Maria ClapsisEdit
Card: YesEdit
Availability: Retired (Feb 2011)Edit
Ad blocker interference detected!
Wikia is a free-to-use site that makes money from advertising. We have a modified experience for viewers using ad blockers

Wikia is not accessible if you've made further modifications. Remove the custom ad blocker rule(s) and the page will load as expected.