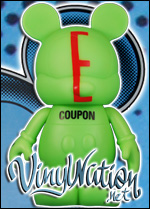 Description
Edit
This figure's design is based on the E-Coupons that were used as admission to Disneyland's most exciting thrill rides when it first opened. Instead of buying a park pass good for all the rides as is the present custom, guests would buy individual tickets from A-E based on what rides they wanted to go on.
This 9" design has a lime-green background with "E coupon" written on the face and body of the vinyl. The back of the vinyl shows lands and rides permitted with this coupon.
The average price of this figure on various auction sites is between $100-$125.
Series: Park 1Edit
Type: 9" vinylEdit
Artist: Randy NobleEdit
Card: YesEdit
Availability: Limited Edition of 600; RetiredEdit
Ad blocker interference detected!
Wikia is a free-to-use site that makes money from advertising. We have a modified experience for viewers using ad blockers

Wikia is not accessible if you've made further modifications. Remove the custom ad blocker rule(s) and the page will load as expected.