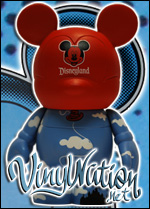 Balloon (Chaser) is the chaser from the first Vinylmation series, Park 1. The chaser is the most rare figure from the first ever Vinylmation series and hence Balloon remains the most sought after Vinylmation figure in the entire product line.
Description
Edit
This 3" figure's head is based on the balloons sold at Disneyland that are shaped like the head of Disney's icon, Mickey Mouse. The rest of the body is blue sky with white clouds. Mickey's face and the Disneyland logo appear on the figure's face. On the left foot, it shows a silhouette of Sleeping Beauty Castle, the icon for Disneyland Park. The back side features the same set-up, except, the Walt Disney World logo is on the back and Cinderella's Castle is on a foot. As of May 2012, this figure has sold on eBay and various websites for prices ranging between $350-$1000.
Series: Park 1Edit
Type: 3" solid vinylEdit
Artist: Randy NobleEdit
Card: YesEdit
Availability: Retired (Feb 2011)Edit
Ad blocker interference detected!
Wikia is a free-to-use site that makes money from advertising. We have a modified experience for viewers using ad blockers

Wikia is not accessible if you've made further modifications. Remove the custom ad blocker rule(s) and the page will load as expected.