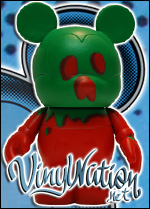 Description
Edit
This vinyl is inspired by the poison apple from the animated feature Snow White and the Seven Dwarves and has a red body with green poison melting from the top of the head and holes for eyes and a mouth. This figure usually sells on eBay and other websites for prices ranging between $50-$85.
Series: Park 1Edit
Type: 3" solid vinylEdit
Artist: Randy NobleEdit
Card: YesEdit
Availability: Retired (Feb 2011)Edit
Ad blocker interference detected!
Wikia is a free-to-use site that makes money from advertising. We have a modified experience for viewers using ad blockers

Wikia is not accessible if you've made further modifications. Remove the custom ad blocker rule(s) and the page will load as expected.